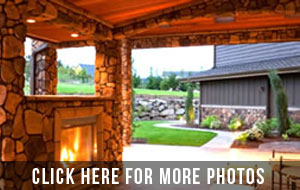 Make your outdoor space cozier with the addition of a fireplace or fire pit.
Outdoor fireplaces can range from a simple stone hearth to a decadent chimney-topped centerpiece. A fireplace can be built as a standalone structure or installed into a patio or porch wall.
Consider a fire pit instead for a smaller alternative to the fireplace. Fire pits can be custom-built or purchased as prefabricated kits and have a wide range of options.
Whether you want a pre-designed or a custom designed installation, Patio Creations is ready to serve your needs. Call us today and let us discuss the options you have for an outdoor fireplace or fire pit!