Being in the custom patio and deck building business, we look back at some of the most creative custom patios we've built all over Houston and nearby neighborhoods below.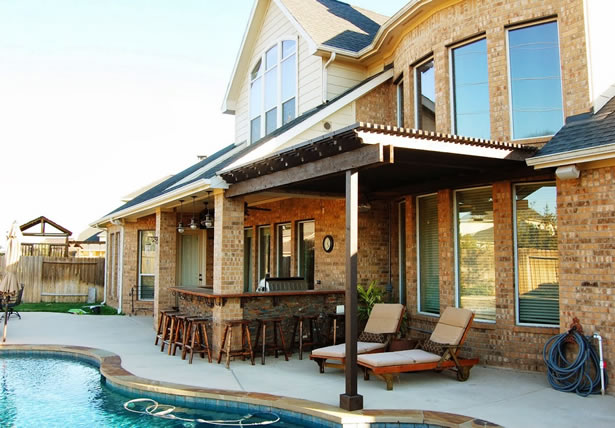 Want to lounge by the pool? Rain or shine, you can certainly do so with this neatly covered patio outdoor space. There's also a wraparound bar and stools surrounding the grill, perfect for a great summer outdoor party with the patio cover a seamless extension of the roofline. For the lounge area, a neat pergola is smoothly installed to provide ample patio cover. As Houston's top custom patio builders, we always aim to work with the space you have and maximize it according to your needs.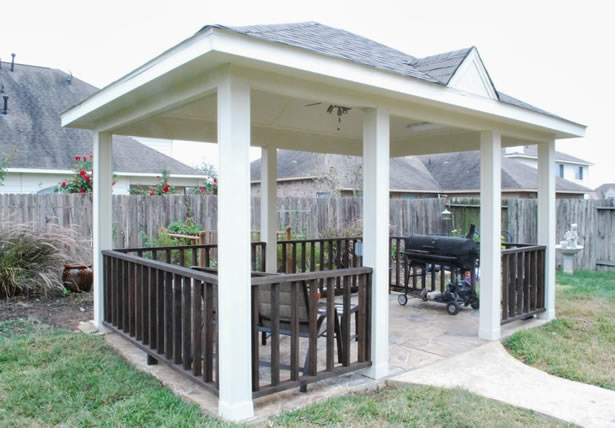 For a family that loves to grill, a standalone custom-built outdoor room is the perfect structure to construct in their free space. With an ample seating area, a picket border, and space for a moveable grill, it easily becomes a fort for good food and great time whenever the weekend comes! This airy setup also lets smoke easily waft into the air without leaving your house smelling like grilled meat a week after the party.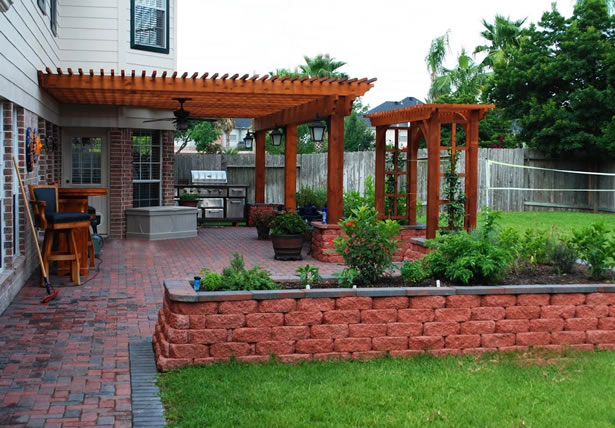 This family home simply adores arbors that they had two pergolas installed. Complementing their brick border and paver patio surface, their patio remains airy and free, while still being elegantly covered against the harsh sunlight or rain. With no nearby roof to extend, a pergola provides a charming patio cover option which can easily be installed, without ruining the existing exteriors of the home.
Aside from these custom-built structures, we can also add porches, pave your driveway, create borders and build outdoor rooms, kitchens or fire pits! Call us today for a free, no-obligation consultation or schedule a free in-home estimate today. As Houston custom patio builders, let us know what dreams you have of your outdoors and we'll help you achieve its potential!