No matter how large or small your outdoor space is, it's only a matter of proper layout to fit an outdoor kitchen which suits your outdoor style. Read on and see which outdoor kitchen layout option best fits your space.
Freestanding Outdoor Kitchen
If you already have a freestanding patio space, you might want to convert it to the perfect retreat for your home-an outdoor kitchen! A few steps away from the main house, this covered patio hosts a kitchen and dining area where celebratory meals and drinks have been created and shared.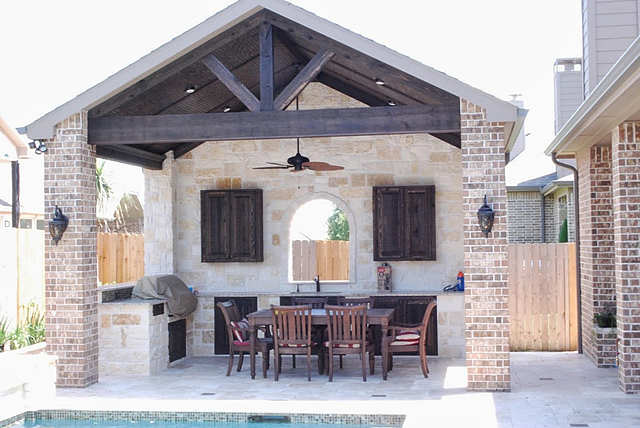 This full service kitchen has a running sink, making tidying up an easy chore. There are also floating cupboards ready to store and hold dinnerware and kitchen utensils. Lastly, this L-shaped kitchen has plenty of countertop space for prepping and serving meals as well as dining space.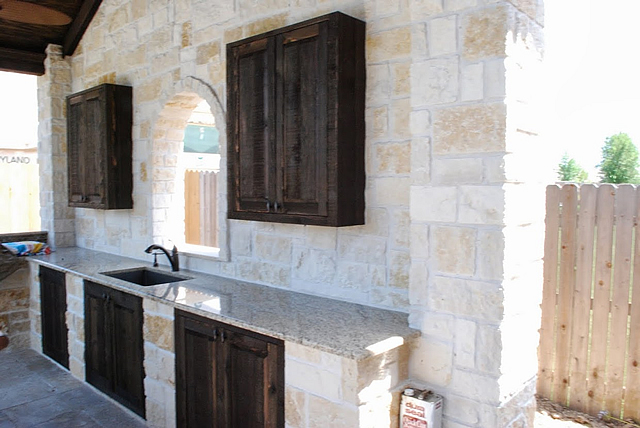 Compact Kitchen
If a covered patio converted to an outdoor L-shaped full service kitchen is too much of a stretch for both your budget and outdoor space, then these examples of a compact kitchen will delight you.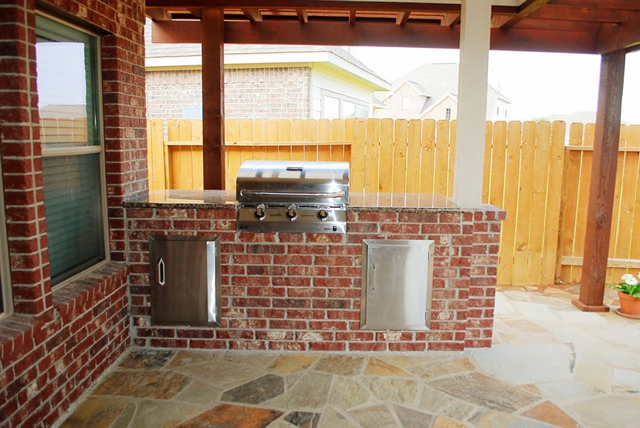 A custom-built countertop fitting a grill, and a storage space below completes this simple but efficient outdoor kitchen space, without crowding the patio. Notice the brickwork design which renders this outdoor kitchen addition seamless.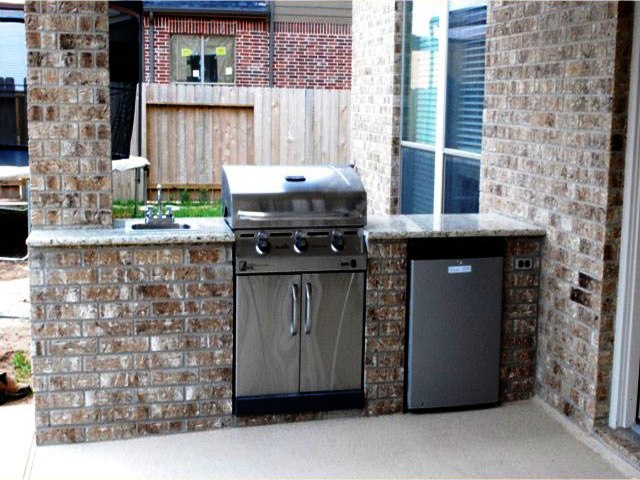 Another seamless outdoor kitchen addition, this ingenious set up even has a small sink and a compact refrigerator. This custom built outdoor kitchen manages to achieve the outdoor kitchen goal and still have plenty of space for the patio.
Mid-Range Space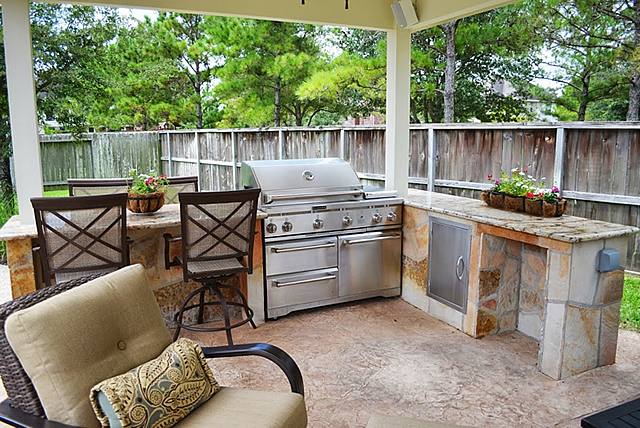 If you don't have a covered patio space or feel like the compact kitchen isn't your style, maybe this l-shape kitchen is the right layout for you. This L-shape kitchen has managed to combine the kitchen and seating area, creating the right mix of elements which make a great outdoor kitchen. With a stretch of countertop to the side for meal preparation, a storage cupboard below and a recess ready for a compact refrigerator, this outdoor kitchen has maximized its space. If you want this same set up or any of the other layouts above, call us today to schedule a free, no-obligation in-home consultation!