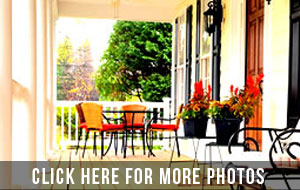 A porch will seamlessly extend your outdoor living space. For porch additions, we extend the roofline of your home and use the same roof material so that your porch blends in with your home architecture.
Adding a front porch to your home gives it a welcoming ambiance and easily raises your curb appeal. Back porch additions also have their own appeal serving as a private retreat where one can relax outdoors without being disturbed.
You can also take your porch installation one step further with a screened porch to keep insects out.
Whether it's a front, back, or screened porch, a porch addition provides an indoor-outdoor space that gives you the best of both worlds.
To learn about the costs of each porch type or porch design ideas, give us a call today and get a free in-home consultation and estimate!