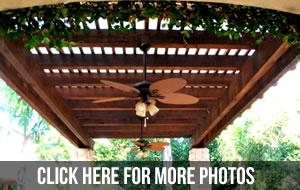 A pergola, more commonly known as a gazebo or an arbor, can serv­e as an interesting focal point for your yard or garden. Its classic design consists of a decorative overhead lattice supported by pillars for an airy, open-roof shade.
Pergolas are also used as transition points from one part of your garden or yard to the next. It can act as an elegant divider among different sections of your outdoor space such as your outdoor kitchen, seating area, or even your garden.
To find the right pergola design for your outdoor space, contact Patio Creations today. Aside from installing pergolas, we also design and install screened patios and decks, porches, patio covers, and other outdoor features. Visit or call us at our Houston office for a free, no-obligation consultation or to schedule an in-home walkthrough and estimate!