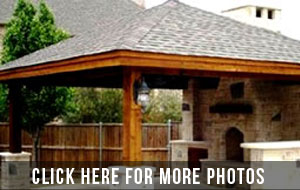 Patio covers make your patio more accessible to you, regardless of the weather. Browse through our patio cover gallery to find various samples of styles and materials.
The typical way of attaching a patio cover is to simply extend your roofline using the same materials as your home. At Patio Creations, our experts take special care to make the extension seamless and intuitive.
More modern designs for patio covers include retractable awnings which can range from durable cloth, vinyl, or even patio umbrellas. These options can give your patio an eclectic and updated look and feel.
While the patio cover material is important, deciding which features to include and install is just as important. With over 20 years of experience installing patio covers, our team has a readymade checklist of other features you may want added to your porch such as electrical outlets, fans, and lights. You may also want a fireplace or firepit, a minibar, kitchen, or even water features. Talk with us to find out about the different options for upgrading your patio.