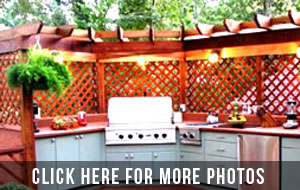 Outdoor kitchens can often act extravagant gatherings for friends and family. By joining the landscape and your house in one beautiful flow, an outdoor cooking area gives a new meaning to your yard space.
A typical outdoor kitchen design consists of either a grill, oven, or side burners according to your cooking needs. These cooking features can either come in pre-assembled kits or can be seamlessly built into your kitchen design. You can even have a wood-fired pizza oven installed.
Other outdoor kitchen features include a countertop and sink, and other kitchen equipment such as refrigerators, racks, cabinets, and trash bins.
The design and feature opportunities for an outdoor kitchen are endless. To explore more outdoor kitchen designs, call or visit us today to schedule a no-obligation consultation.